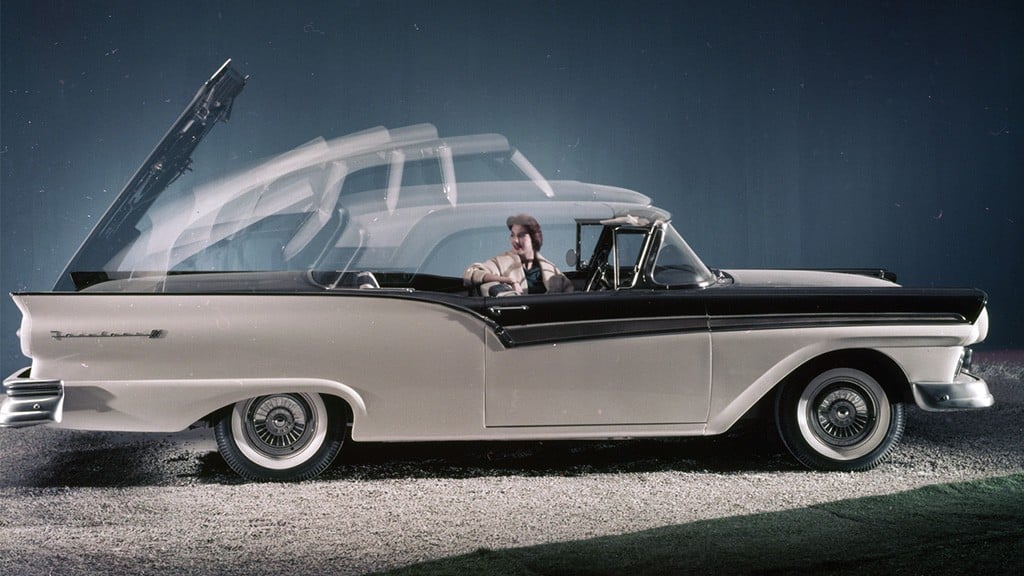 1957 Ford Skyliner
As the weather in the Dearborn area becomes more welcoming to open-roof driving, we're looking back at the introduction of the hardtop convertible — Ford was the first automaker to mass produce one — in the 1950s. It all started with the introduction of the "Roof-O-Matic" 70 years ago this month.

The all-steel hardtop concept, displayed for the media at the company's then-new Styling Building in Dearborn, used a 3/8-scale model called Syrtis. The "first true hardtop convertible design for a sedan" was created by Ford's Advanced Styling department. The use of steel was said to make the Roof-O-Matic safer and less noisy compared to traditional canvas tops. It would be a couple years before the technology was implemented, though.
Already the industry leader in convertible sales by a wide margin, Ford took the in-demand option a step further when it introduced the retractable steel roof on the 1957 Skyliner, a vehicle the company said was 10 years and $20 million in the making. The Skyliner became the first car to offer a hardtop convertible option using a variation of the Roof-O-Matic technology. The new feature was heralded as the biggest innovation in automobiles since the Model T era, after taking engineers some 40 years to create a folding convertible top.
A press release announcing the new option also noted that the feature was taking a different path to the mass market with its introduction coming in a high-volume vehicle rather than a higher-priced, lower-volume model.