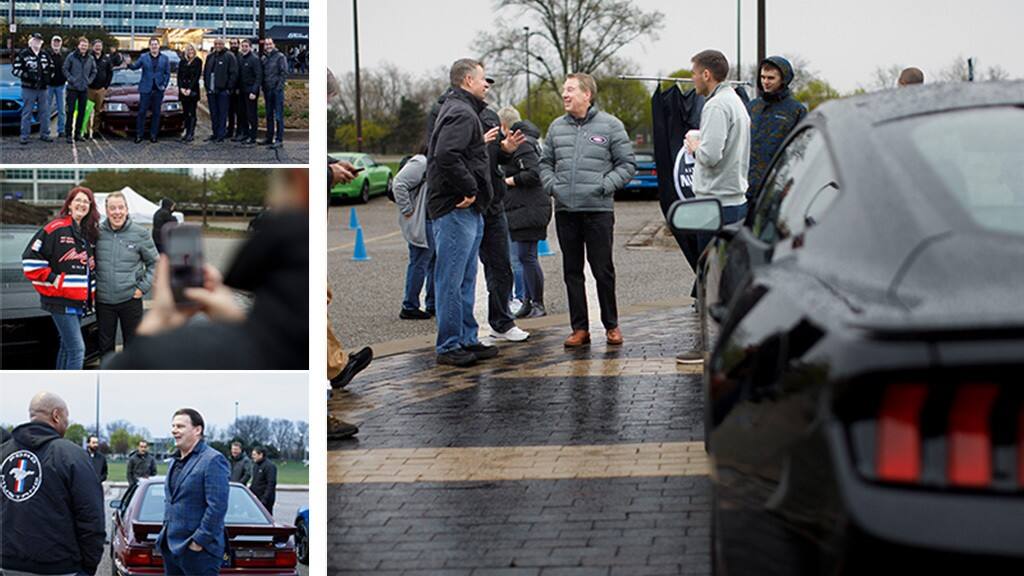 The cold and rain couldn't dampen employees' passion for Mustang, as Ford celebrated the iconic pony car's birthday on April 17, marking the 59th anniversary of the car's reveal at the World's Fair in 1964. Approximately 50 employees and retirees brought their Mustangs to World Headquarters to join in the celebration, and Ford Executive Chair Bill Ford, as well as President and CEO Jim Farley both stopped by the event.  
New Mustang Chief Engineer Laurie Transou was also on hand. "It speaks to the passion customers have for our products," she said, noting there are more than 300 Mustang clubs around the world. "The weather wasn't ideal and yet people were there. They wanted to come out and share their story. Everyone has a story and it's so great to talk to them and hear about their experiences. They're very passionate."
Also, it was announced Mustang retained its title as the world's best-selling sports car for 10 years combined. The car's popularity even stretches beyond its market availability, Transou said, creating fans who follow Mustang on social media and other channels but may not even be able to purchase one in their home country. In the U.S., though, the car has been produced continuously for nearly 60 years.
"The product is amazing, but it's also the memories and growing up and it's everything that America stands for," said Transou, who was named chief engineer in January. "There's all this personal history and national history – it evokes emotions in people."
Ford and the Ford Mustang have always been part of Transou's life. Her family is about as big of a Ford family as there is and she learned to drive on a manual transmission Mustang GT at age 16. She later owned a 1991 Mustang GT as she was beginning her Ford career.
A second-generation Ford employee – many of Transou's family members have been or are currently employed at Ford, including her father, father-in-law, brother, brother-in-law, husband and the couple's four children. She also grew up around racetracks and Ford Performance race cars.
Transou held several summer internships with Ford and later joined the company Ford as a Ford College Graduate, a program that gives recent college graduates a variety of rotational job assignments on multiple skill teams for their first two or three years with the company. She has also worked in Truck Operations Product Development, holding various roles in engineering, vehicle integration, planning and strategy on products including the first-generation Ford Expedition, F-250 and Ranger. Today, she leads all aspects of the all-new, seventh-generation 2024 Ford Mustang and future Mustang products.
"It's an unbelievable honor to be in this role," Transou said. "I feel so lucky and thankful. The team working on this product is amazing. … The thing I love about the Mustang team is that I see this pride and passion everywhere I go. They're passionate about Ford and Mustang and they take pride in building this iconic product."
Sandy Ilievski, Flat Rock Assembly Plant Manager, said the anticipation at the plant where UAW-Ford team members will soon build the all-new, seventh-generation Mustang, is evident. "The excitement I am seeing (here) for the new 2024 Mustang is just so contagious," she said. "The employees are so passionate about the product they build and truly have quality in the forefront of what they do daily. It is an honor to serve as their plant manager."
While there were many modern Mustangs at World Headquarters for the Cars and Coffee event, there were at least a couple classics, like retiree Barry Levey's 1966 Mustang. He bought the car in 1988 and it served as his daily driver while he worked in marketing until 2007. These days, he still takes his Mustang out on local tracks and has accumulated "hundreds of thousands" of miles.
Driving his Mustang takes Levey back to the early days of the iconic car and a time when cars were less sophisticated – and better off for it, in his opinion. "When I sit in this car, I'm 17 again," he said.
Chris Baldwin, a design analysis engineer in the Automotive Safety Office, brought his 2014 Mustang, adorned in Gotta Have it Green. He purchased the car when he joined Ford several years ago and drives it daily in warm weather.
"It's not like everything else," he said. "The bright green color is really cool. The power you get driving it is fun and the handling lets you feel the road a lot more and it's more fun even when you're just driving around town every day."
Other Mustang Day celebrations took place outside of Dearborn, with the all-new Mustang Dark Horse making its European debut, as fans in the U.K. and Belgium celebrated global Mustang Day. There were also celebrations in Canada and Mexico.
If you were at any of the Mustang Day events, share your experience on social media and @BlueOvalNow! Use #WeAreFord and #FordMustang when posting.