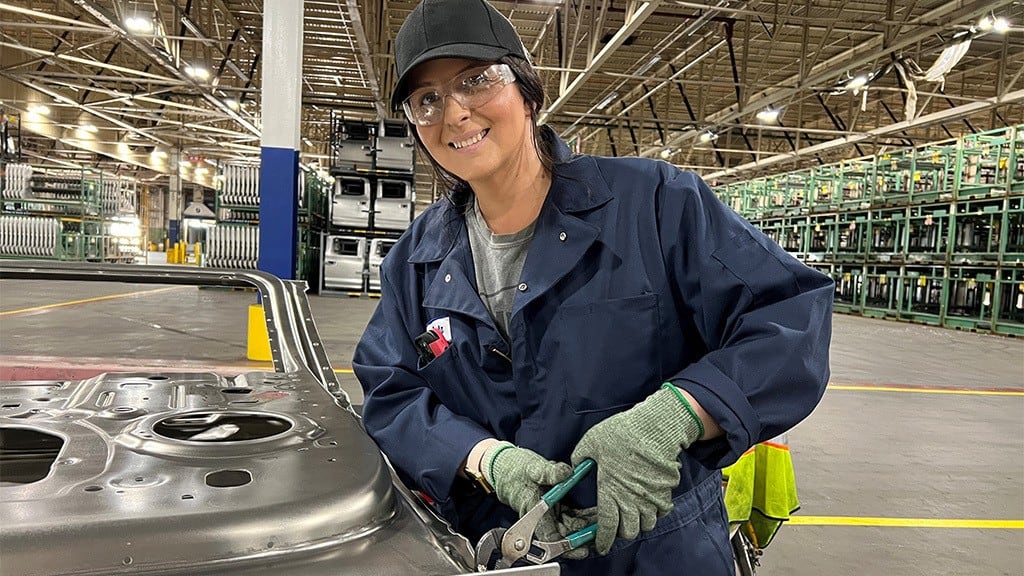 Kayla Staley didn't plan on working at Ford Motor Company, even though her father, Chuck Staley, recommended it to her and to her brother, Charlie.
"My dad always encouraged us to work here and get into skilled trades. My brother and I thought we wanted to do other things," Kayla explained.
Her father is an electrician at Dearborn Truck, where he has worked for 28 years. 
Her great-grandmother started the dynasty, hand-sewing seat upholstery. Her grandfather Charles Staley, Sr. retired from the Saline plant shortly before it closed. Her brother, Chuck, is the most recent addition to the Ford legacy – hiring in as an electrician at Michigan Assembly Plant just over a year ago.
In the end, Kayla didn't break the streak and in 2014 became the fourth-generation Ford team member in her family.
"A proud Ford family is an understatement," Kayla said. "Through hard work and all the benefits available to us, we have generationally cultivated a wonderful life. Ford Motor Company and my dad have afforded my brother and I endless opportunities."
After high school, Kayla took jobs that didn't offer much. As a single parent of two daughters (who are now 10 and 6), she wanted a future. She was trying to decide between a career as a nurse or taking a job at Woodhaven Stamping Plant.
"Tuition is expensive, and it would have put me in debt to go to nursing school, but I made a better choice. I came to Ford," she said.
Kayla joined WSP, starting in production and applied for skilled trades as soon as she was able. She currently is in her second year as a machine repair apprentice.
"What has really helped is the tuition assistance program. That has paid for my training classes," she said. The comprehensive tuition program, offered through the UAW-Ford Joint Trust, is available to hourly employees and their eligible family members and is designed to assist in both career advancement and personal development. Options vary depending on employment status. 
Right now Kayla takes a welding class three hours a day, two days a week at the training center. This summer she will take two online classes, which she said is a great option when working, keeping busy with her daughters and working with her fiancé on restoring a 100-year-old farmhouse.
"Now as a tradeswoman, I am constantly being challenged in my apprenticeship. However, every day I am learning and gaining confidence and knowledge to overcome those challenges," Kayla said. "I am forever grateful and proud to be a fourth generation Ford team member. My daughters are watching me – the same as I watched my father. Maybe, we will make it a fifth generation."
Skilled trades were a popular choice for the Staley family. That option is open to all full-time hourly team members. Three standardized classes of the UAW-FORD Industrial Readiness Certificate Program are required. For more information, please reach out to your local ESSP plant representative or visit www.uawford.org/njap.