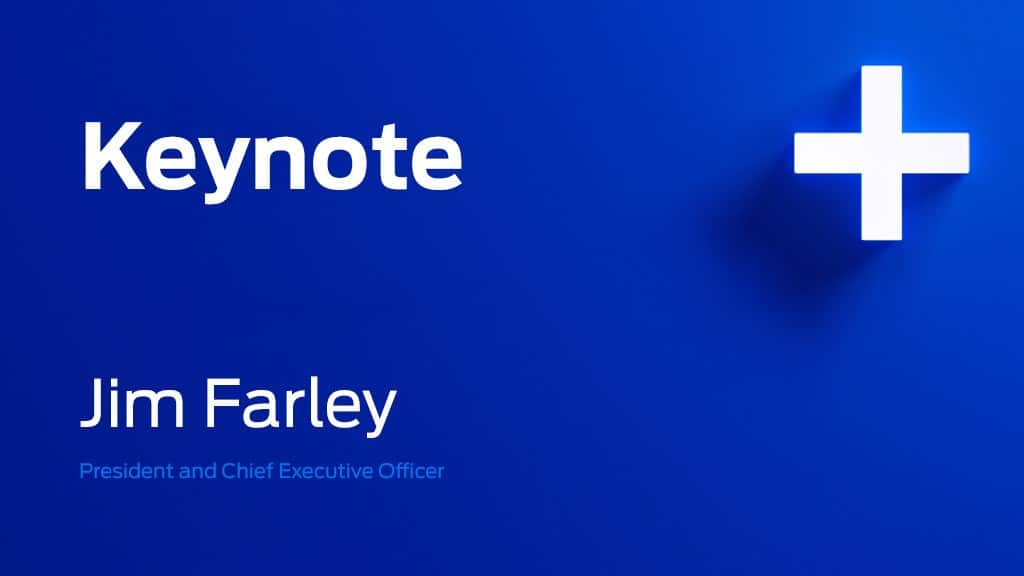 Ford Motor Company is nearly 120 years old, but our history is still being written as we fulfill the Ford+ Plan, President and CEO Jim Farley said at Ford's Capital Markets Day event on Monday. Investors, analysts and journalists were in Dearborn to hear about the latest progress to deliver our Ford+ Plan. The day before, they got a first-hand look at the surge in product from Ford Blue, Ford Model e and Ford Pro during a special event at Dearborn proving grounds.

Citing our progress over the last two years as proof of Ford's world-class team meeting challenges head-on, Farley's keynote covered the key steps we're taking to build this exciting future together. The result will be a Ford that thrives at the intersection of a strong product lineup, innovation, and the rapid deployment of software.
"Everything we're doing is centered on our educated view of what customers want and expect – what they will love – in the era of connected vehicles," he said, emphasizing the ultimate focus of the Ford+ Plan being the customer.  
Farley laid out the company's vision of what the outcome will look like for Ford customers as software continues to propel our vehicles and services forward including:
Ford Blue, with a portfolio of iconic gas-powered and hybrid vehicles, including exciting derivative versions of models like F-150 and Ranger trucks and Bronco SUVs, and a commitment to achieving high quality in every category
Ford Model e, a startup within Ford that's rapidly developing innovative, updatable next-generation electric vehicles, as well as breakthrough digital platforms and software – such as the top-rated BlueCruise advanced driver-assistance technology – for adoption across all of the company's products
And Ford Pro – what Farley calls Ford's "secret weapon" – to help commercial customers lower the total cost of vehicle ownership and transform their enterprises with a leading lineup of specialized gas, hybrid and electric vehicles and increasing take rates for productivity services, like prognostics and telematics.
Reimagined customer experiences will include seamless, fast shopping, mobile services and EV charging; improved customer support and satisfaction informed by data-driven insights, and seamless deployment of the latest technologies through software just as customers enhance their phones through app stores today.
Quality and cost are priorities. Ford will deliver world-class quality in key vehicle segments and be among the very best in all other segments. We will also close the gap on cost through a disciplined operating system that touches every plant and every part the company purchases.
Focus, collaboration and excellence underpin how we work and deliver Ford+rates.
As he summarized some of the company's proof points so far toward that vision, he demonstrated how, when executed, the Ford+ Plan will have great potential to create value with a higher growth, higher margin, less capital-intensive and more resilient business model.
"We are fortunate to be stewards of one of the greatest brands in the world," said Farley. "The opportunity we have now is to elevate the Ford brand and introduce ourselves to millions of new customers who may never have considered Ford … to evolve and offer services and experiences they don't want to live without."