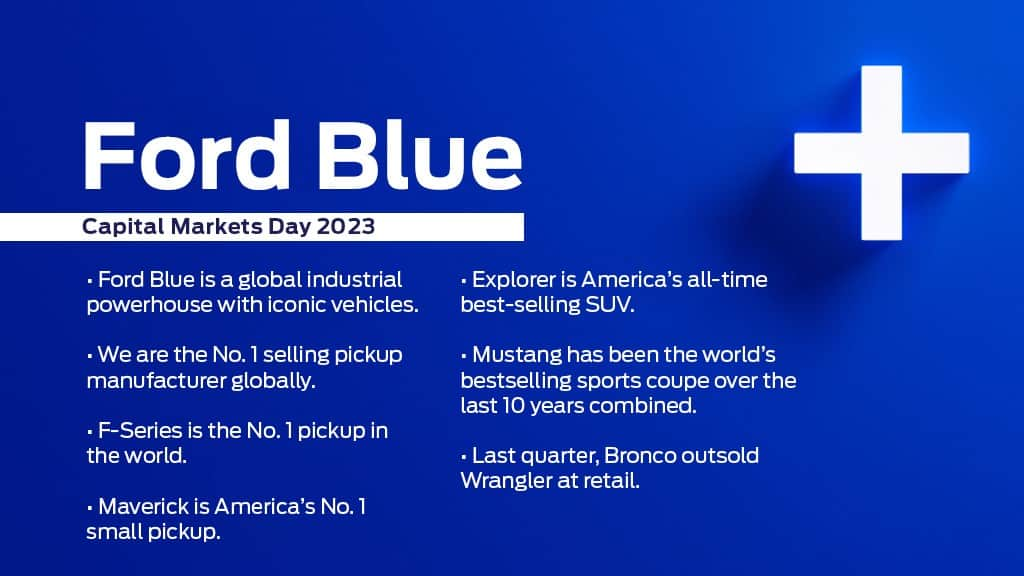 Ford Blue president Kumar Galhotra highlighted how Ford Blue is a vibrant global industrial powerhouse with iconic vehicles and the industrial heart of the company. Ford Blue's unique product portfolio offers many opportunities for continued growth despite increasing EV adoption, he said.

According to Galhotra, demand continues to out-strip capacity for key vehicles; in the next 10 months, Ford Blue will increase its capacity by over 160,000 units. "We expect strong U.S. ICE and hybrid sales well into the next decade," he said. He also added that several customer-centric levers are in the works to strengthen Ford Blue's portfolio even further and improve returns. These levers include developing derivatives that will reflect customers' passions and lifestyles, broadening hybrid powertrain offerings and increasing the share of accessories and parts sales, offering more choice for personalization and customer service support.
He also addressed where Ford Blue's priorities sit as the business sees the majority of Ford's total costs, which are estimated at about $7 billion higher than the competition. Closing this gap will yield higher margins and free cash flow to fuel enterprise growth. "Ford Blue priorities are clear.  Improve quality, reduce costs, grow revenue and profits," he said.
Key summary points from Ford Blue presentation:
The strength of the portfolio, which includes Ford F-Series, Bronco and Mustang, among other nameplates, is expected to propel Ford Blue to an EBIT margin in the low double-digits by the end of 2026.
Internal combustion-powered and hybrid vehicles sales in the U.S. are predicted to remain strong well into the next decade.
Ford is quantifying improved quality by targeting best-in-class for vehicles — including F-150, Super Duty, Bronco, Ranger and Transit — by 2025. The target for each vehicle in the rest of the Ford Blue portfolio is to be in the top quartile of its respective segment by 2025.
FCSD will also increase its share of post-warranty repairs to 40%, from 25% today, over the next three years as Ford Blue reduces warranty repairs through improved quality and adds mobile service capacity. Ford is launching more than 2,000 mobile service bays this year for light service, such as oil changes and tire rotations.
Much of Ford Motor Company's $7 billion cost deficit originates from Ford Blue. The company will close this competitive gap by improving costs, growing revenue and increasing profits.
The company is also addressing the three key root cause areas for poor quality through short- and long-term mitigation: engineering, manufacturing and supply chain.
Reducing complexity plays a significant role in reducing costs. Lowering the number of parts used in a particular model and decreasing the number of orderable combinations are key drivers.