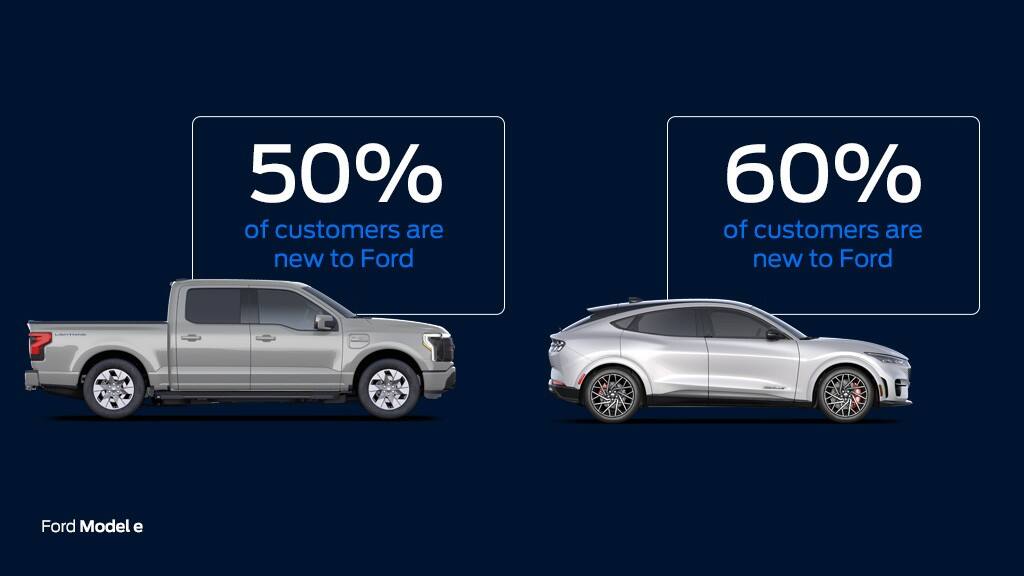 "Model e isn't playing a zero-sum game with Ford Blue," said Doug Field, Ford Model e's chief advanced product development and technology officer, as he opened his remarks at this morning's Capital Markets Day presentation. "We are building white space products that couldn't exist with an (internal combustion) powertrain, just as Ford Blue is building products that would be compromised without one," he explained, adding that Model e's approach of investing in targeted applications is succeeding as the F-150 Lightning and Mustang Mach-E continue to attract new customers to the Ford brand.
But Model e's Gen 2 products will go much further according to Field where this approach will continue with investments "where we know we can win, where we know we can be differentiated, and where we can deliver the most value to the world, starting with a full-size pickup and three-row SUV."
While the Gen 2 EV lineup will build upon Ford's Gen 1 learnings to deliver unimaginably great products and experiences, product development is not the only area Ford Model e will reimagine. Model e's ambitions go beyond to completely changing how the company goes to market, builds and operates its industrial system, in addition to democratizing software across Ford Blue and Ford Pro customer bases.
Speaking of how EV industrialization approach builds on the best of both worlds, Lisa Drake, who leads EV Industrialization for Ford Model e, explained how Ford's proven capability to quickly scale by leveraging its manufacturing strengths and taking full advantage of its digital product capability was unfolding. According to Drake, new production processes such as Zero-Faults-Forward were already unfolding taking advantage of our new fully networked product capability to self-test and communicate issues to the operator right on the line, in addition to autonomous vehicle technology both indoors and outside the manufacturing facility, to name a few.
Key points from Model e presentations:
From 2022 through the end of 2026, Model e will grow from just under 100,000 units to well over one million units. That number will approach two million units when combined with Ford Pro.
Our second-generation EVs will be targeted in full-size pickups and large SUVs.
Complexity has been reduced on Ford's next electric truck, Project T3. It will have fewer than 10 buildable combinations.
Our next generation of EVs will include a three-row family vehicle with 350 miles of range and a battery smaller, lighter and less expensive than today's batteries.
The scope of Model e's work includes the creation of technology and software across the company's internal combustion, hybrid and electric vehicles in Ford Blue, Ford Pro and Model e.
Customers have shown a 20% take rate on BlueCruise subscriptions from Mustang Mach-E customers. BlueCruise hardware will now be included on 500,000 vehicles across Ford Model e, Ford Blue and Ford Pro vehicle lines next year. This could generate as much as $200 million in high-margin software revenue across the business – excluding possible future activations or extensions. 
Model e will launch an industry-first production process called Zero-Faults-Forward in the final assembly department at Oakville Assembly Plant in Ontario, Canada. The process leverages fully networked vehicles to communicate issues directly to the line operator.
Tennessee Electric Vehicle Center will use nearly 20% fewer hours per unit than our high-scale gas-powered F-150.
Ford has come to agreements with three of the top global lithium-producing suppliers: Albemarle, SQM and Nemaska. These deals will help the company reduce risk as we scale EV production.