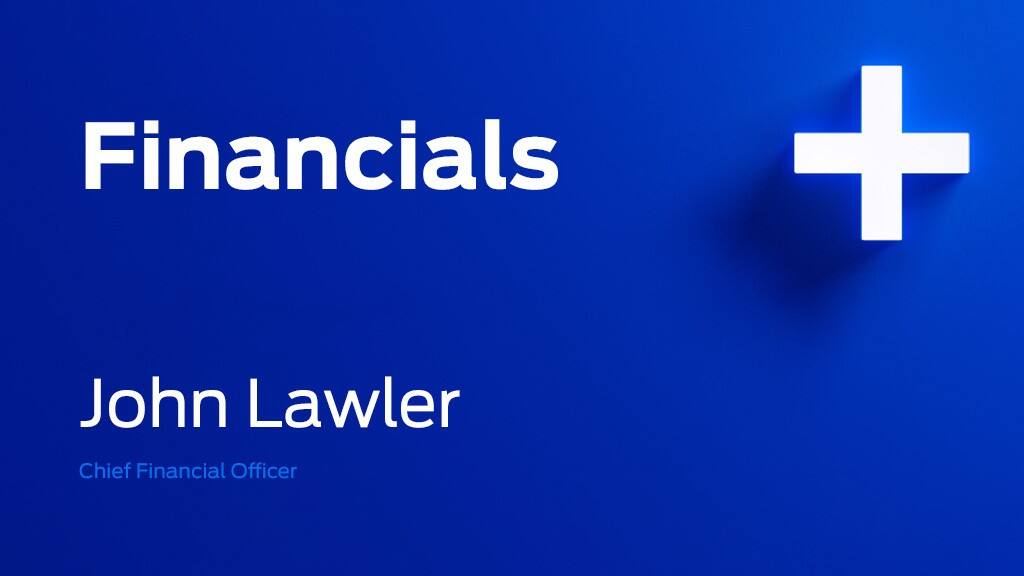 Real change is underway at Ford. That's the message delivered by Ford Chief Financial Officer John Lawler during Capital Markets day. Lawler explained how Ford is more than sheet metal and nameplates; our new customer-focused business segments have the potential to change the way investors understand and value the automotive sector.
Lawler provided an overview of key achievements to date since the Ford+ Plan started rolling out, and gave an update on Ford's business strategy, highlighting our efforts to improve quality and manufacturing efficiency, drive costs out of the business, our disciplined approach to capital allocation and our financial targets:


Ford's strategy goes beyond the cars and trucks; connected, fully-networked vehicles and lifetime, always-on relationships with our customers provide powerful value and ownership benefits.
Our Ford+ strategy delivers a robust business model that drives higher margins, lower costs, more stability and higher growth.
We are carefully choosing where to play. Ford's key priorities are grounded in disciplined spending that will drive growth and create value; over the past couple of years, capital has increasingly shifted from restructuring our global operations to funding our Model e and Pro businesses.
Eliminating complexity and reducing costs will drive improvement in our EBIT margins.
Our Ford+ plan targets a 10% adjusted EBIT margin by 2026, an improvement of about three-and-a-half points over 2022.
Our customer-focused business segments — Ford Blue, Ford Model e, and Ford Pro — provide transparency; investors can see exactly what's happening within each of our businesses and gauge the progress we're making each quarter.

For Ford Blue, we're targeting an EBIT margin in the low double-digits, about three points higher than 2022; post-2026, we assume margins will begin to decline as the industry shift to electrification continues.
For Model e, we are to aiming to deliver an 8% margin by the end of 2026.

Model e is a unique opportunity that redefines the legacy business model and delivers a new high-growth business.
BlueCruise and other digital and physical services will contribute about 20% of Model e's EBIT by the end of 2026, and we expect this opportunity to grow significantly over time, especially with the launch of Level 3 technology.

For Ford Pro, we're targeting low-to-mid teen EBIT margins by 2026.

There is a real change underway at Ford; each of our three business segments has clarity and focus on delivering value efficiently to the customers that it is uniquely capable of serving, and each segment is responsible for its own capital.
We are a new, focused Ford with true growth opportunities across each of our businesses, including a vibrant ICE portfolio; a thoughtful, targeted, and growing EV business; and a powerhouse in Ford Pro. All of these will unlock value made possible by connected, fully networked vehicles and lifetime, always-on relationships with our customers.