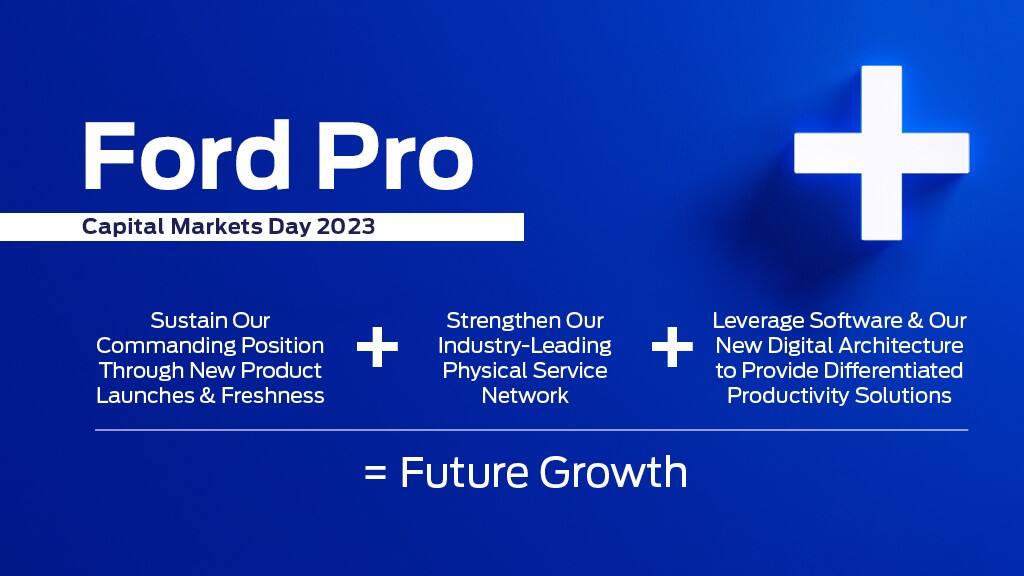 It may go unnoticed, but Ford Pro vehicles are all around you, driven by the people who make up the backbone of our economy in trades such as plumbing, landscaping, electricians, construction and many more small- and medium-sized businesses, as well as big box retailers. And these customers don't just need the right product to help them get the job done, they also need the peace of mind and critical uptime. And according to Ford Pro CEO, Ted Cannis, with technology driving a paradigm shift, "Ford Pro is uniquely positioned to integrate new digital solutions that build on our strong foundation of vehicle leadership and our unmatched support network. According to Cannis, the company's is poised for success and differentiation thanks to its ability to integrate the software, vehicles and service into a sticky ecosystem.
"We truly offer a One Stop Shop of work-ready vehicles, software, service, charging, and financing solutions that make running a commercial fleet simpler and more productive every day. Because Pro stands for Productivity," he said as he laid out how Ford Pro is poised to build on its leadership as its offerings continue to drive customer productivity, a firm foundation for recurring revenue, subscription services, and products that understand the fleet owner's needs.
Key summary points from the Ford Pro presentation:
With more than $50 billion in revenue, Ford Pro would be a Fortune 100 company — on par with Caterpillar and John Deere — if it were a standalone company.
Software will be the differentiator that drives Ford Pro's future growth and profitability. Its paid software subscription rate is expected to increase to nearly one-third of all connected Ford Pro vehicles by 2026. Led by an increase in EVs, partial autonomy, predictive maintenance and advanced fleet controls, these solutions have the potential to drive up to $2,000 per vehicle annually in subscription revenue.
Integrated software connects the Ford Pro Service network to the data being captured from customers' vehicles and charging hardware to offer customers tailored, preventive repair and diagnostics. This keeps our vehicles on the road longer, resulting in productivity gains and saving customers money.
Ford Pro software is alco compatible with competitor vehicles, allowing it to support multi-make fleets.
Having these software solutions will help insulate Ford Pro from the cyclical nature of the traditional automotive business because its revenue pools extend across the entire vehicle life cycle. By 2026, nearly 20% of Ford Pro's profits will come from software and service revenue streams.
Ford Pro will continue to offer a combination of gas-powered, hybrid and electric vehicles for many years to come, guiding customers through the transition to all-electric and offering end-to-end support for their charging experience.
The Ford Pro Service network, which includes dedicated commercial dealerships and mobile service vehicles, is a key differentiator.