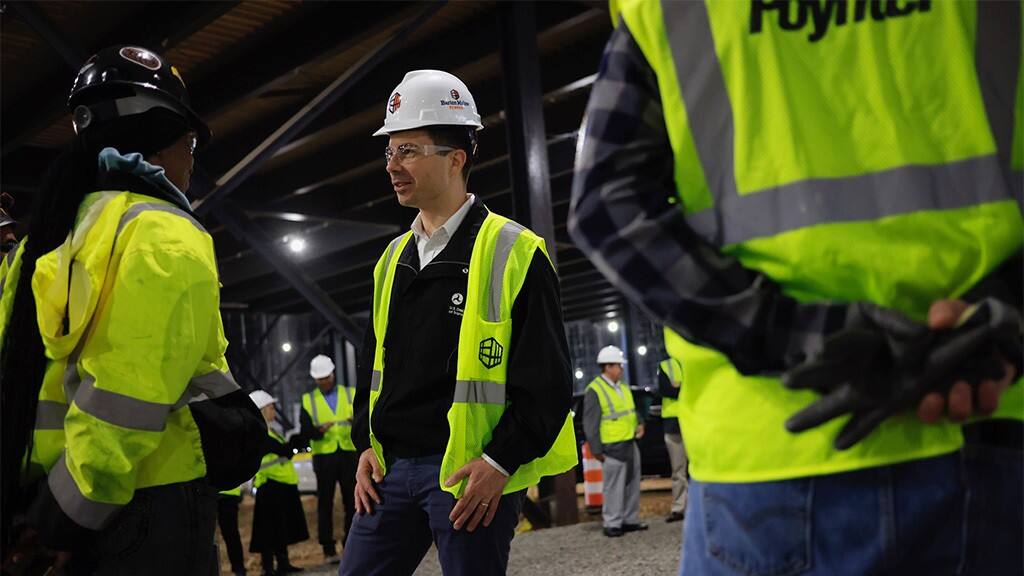 Secretary of Transportation Pete Buttigieg joined Ford and SK On leadership Friday at BlueOval SK Battery Park in Central Kentucky, near Louisville, to see progress on the 1,500-acre complex that will be a key driver in Ford's mission to lead the EV revolution. Employees at the complex, a $5.8 billion investment by Ford and SK On, Ford's joint venture partner; will produce batteries for future Ford and Lincoln vehicles. 
The two new battery manufacturing facilities to be built on the site will be central to Ford's goal of producing 2 million EVs globally by the end of 2026. Ford, the No. 2 electric vehicle brand in the U.S. in 2022, is investing more than $50 billion in EVs globally through 2026.  
SK On, a subsidiary of SK Innovation, is partnering with Ford to develop and manufacture electric vehicle batteries at BlueOval City, located in Tennessee, and BlueOval SK Battery Park. Construction in Kentucky is on-schedule and battery production is expected to begin in 2025. 
Ford also recently announced plans to build BlueOval Battery Park Michigan, a 1,900-acre site which will produce lithium iron phosphate (LFP) batteries to power a variety of Ford's next-generation EV passenger vehicles and pickups. The $3.5 billion investment is expected to create 2,500 jobs.  
During the visit to Kentucky, Buttigieg highlighted the Biden administration's work to advance the development and adoption of EVs, as well as job creation and workforce development. Ford is expected to create 7,500 new jobs between the battery sites in Kentucky and Tennessee. The company will also provide training for employees to build advanced batteries at the adjacent Elizabethtown Community and Technical College BlueOval SK Training Center. Construction on the 42,000 square-foot training facility, located on the BlueOval SK Battery Park site, will begin this year and is expected to be completed in 2024. 
Ford has a nearly 110-year history in the Bluegrass State, dubbed "Kentrucky" during Ford's recent F-Series Super Duty launch, where it already employs 12,000 people. The company has vehicle assembly operations that include the F-Series Super Duty F-250-F550, Ford Expedition and Lincoln Navigator; as well as Ford Escape and Lincoln Corsair.  
Ford CEO Twitter:
@jimfarley98: Great to have @SecretaryPete Buttigieg at @BlueOval_SK in Kentucky today, @Ford's rising advanced battery plant. Making progress and creating thousands of good jobs! Ford is building bigger & better – leading the EV revolution & investing in U.S. manufacturing.